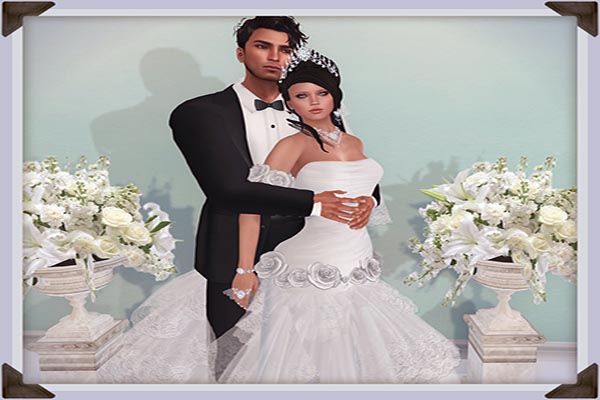 A MEDITERRANEAN ISLAND wedding to meet your expectations and your needs in organizing this event.
With a ceremony of your choice, exceptional decor and perfect coordination, we will make your wedding magical, unforgettable and unique.
Rates:
Catholic ceremony with music at the Basilica of St. Peter the Apostle, on the occasion beautifully decorated (coordination by our hostess).
Including a photographer service for 10 photos: 5,000 L$.
Bridal Party at the MedBlue's Club lasting 2 hours, with the participation of a DJ and our hostess to enliven the event (supply of cakes and
champagne). Fireworks and a photographer service for 10 photos: 7,000 L$.
Calls booklet: 500 L$;
Choice of music in church: 500 L$;
Choosing the type of music at the party: 2,000 L$;
Custom marriage certificate: 200 L$;
Choice of decoration: the price to be agreed depending on the type for a maximum of 1,000 L$;
Tests for 1 hour with day to be: 300 L$;
Closure of land to non-guests: 700 L$;
Wedding planner available for various tests and consultations: 2,000 L$;
Video music for about 3 minutes: 2,000 L$;
Video and audio full 50 minutes: 20,000 L$;
Each photo plus: 50 L$/each
Color-coordinated (decorations, tables, cake, invitations, etc..): 3,000 L$;
Custom Photo Album: 700 L$;
Bridal suite for the honeymoon (with setting of your choice) for 4 days: 2,000 L$.
As will be postponed to another date set in case of unexpected due to the operation of SL without any increase.
PAYMENT:
50% IN CLOSING
50% BEFORE THE CEREMONY
In case of cancellation of the event will not be refunded the amount paid.
.
For Information send an IM to the Master of Ceremonies: EMME Emmons