Mediterraneo Holodecks – Skybox Rentals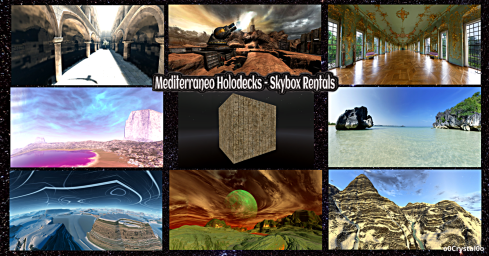 Sky Holodecks
Visit our offices and our holodecks

Our holodecks have different sizes and different supply of prims:
1) Holodeck 70m x 70m with platform 40m x 40m, 50 prims = 100 L$/week
2) Holodeck 70m x 70m with platform 40m x 40m, 100 prims = 200 L$/week
3) Holodeck 100m x 100m with platform 50m x 50m, 150 prims = 300 L$/week
4) Holodeck 256m x 256m with platform (full sim) 100m x 100m, 400 prims = 2000 L$/week
All holodeck have equipped:
a) Security
b) Couple Dances
c) TV/radio
Customized solutions are planned with increase of prims
Here some scenes:
Mediterraneo holodecks make luxurious living as simple as clicking a button, and at a fraction of the cost of owning land.
Holodecks offer a very private space of different sizes (70 sqm, 100 sqm, 256 sqm) inside a large cube. You can set the panorama shown on the inside of the cube from our large selection or even load your own.
Inside your holodeck you can choose from more than 800 scenes including large luxurious furnished houses, romantic settings and role play environments. Scenes can be changed at will as often as you wish. All holodecks are on private islands for lower lag and better privacy, and a security device is included in each holodeck which will eject any unwanted visitors.
Houses are rezzed fully furnished and furniture can be moved about to suit your taste or deleted completely. Many scenes include animated beds, couple dances, and various other animations. The latest NHC TV's are available free to all residents and provide many TV channels and radio streams. A range of couple dances are provided for use with all scenes.
Premium membership with Linden Labs is not needed to rent at Mediterraneo OC. All holodecks come with an allowance of up to 100 prims for your own objects and more may be available if needed. The minimum rental period is two weeks.